You may be surprised to find you don't need to replace your whole bathroom to create a luxurious feel. One or two smaller projects may give your bathroom a whole new feel without months of work and a huge bill.
1 – Replace an Unused Bathtub with a Larger Shower
If your bathtub does little more than acting as a large trough for your shower, consider removing it to make room for a larger shower.
This could be a walk-in, tile shower with two nozzles. Choose a grout that is easy to clean and you'll have a beautiful, functional addition.
If you're thinking of staying in this home into your golden years, also consider a curb-less shower. It's accessible and safe (nothing to trip on). With a slight slope, water will naturally flow toward the drain.
2 – Upgrading Sink and Counter
For a sturdy, long-term upgrade, consider pental quarts for your countertops. Pental quartz is sturdier than granite and doesn't need to be resealed.
While you're upgrading the countertops, take the time to consider what you want for a bathroom sink. Adding a second sink can make your bathroom more user-friendly. For easy cleaning, consider an undermount sink where the countertop terminates at the edge of the sink.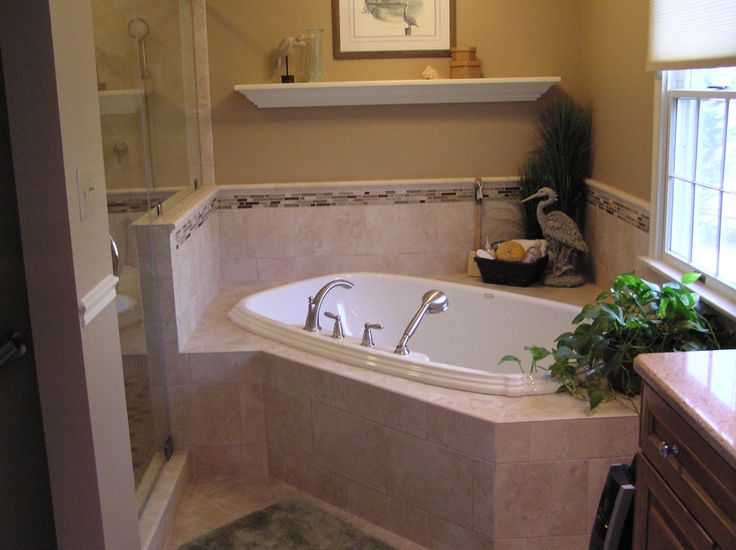 3 – Add Better Lighting
What constitutes better lighting in your bathroom will depend on how you use the bathroom. Do you have a vanity? You can rearrange the lights around your mirror so you don't have shadows.
If your vanity doesn't extend all the way to the floor, you may also consider adding lighting underneath. At night you'll be able to see the floor, but you don't have to turn on the bright bathroom lights.
4 – Evaluate Cabinet Space
Are you able to store everything you need in the bathroom? Is it easy to access? Add built-in shelving that won't take up ground space or storage above the toilet so you can store essentials in the bathroom.
5 – Upgrade Your Ventilation System
If your bathroom is constantly damp, you have a breeding ground for mold and bacteria. Upgrading your fan may be the solution.
Upgrade to a model that has a timer and use it vigilantly to keep your bathroom air healthy. When choosing fans, check out its sone rating – a quiet fan will have a lower sone rating.
6 – Replace Laminate with Tile
Laminate is frequently found in bathrooms but it doesn't hold up well with standing water. The solution is to be vigilant about wiping up every drop of water as soon as it falls.
If that's not practical, replace your laminate with tile. It's the clean, classic bathroom material that can handle standing water. With all of the options on the market, tile doesn't have to look traditional (if you don't want it to). Choose from porcelain, ceramic, or glass for a look that ranges from traditional to modern. Just make sure the tile you choose is rated for floors.
Before tackling any of these projects though, you should always ensure you have the basic skills to get the job done, if you aren't sure you have the right tools or know-how, always work with qualified, professional bathroom renovation contractors.