All white interiors can be stylish, luxurious, relaxing, and appealing when they're done right. Done wrong, however, they can take on an air of "hospital waiting room", and can also be a nightmare to clean. That said, all whiter interiors are great for staging your home when you want to sell it quickly.  If you'd like to try your hand at decorating with white, consider these tips: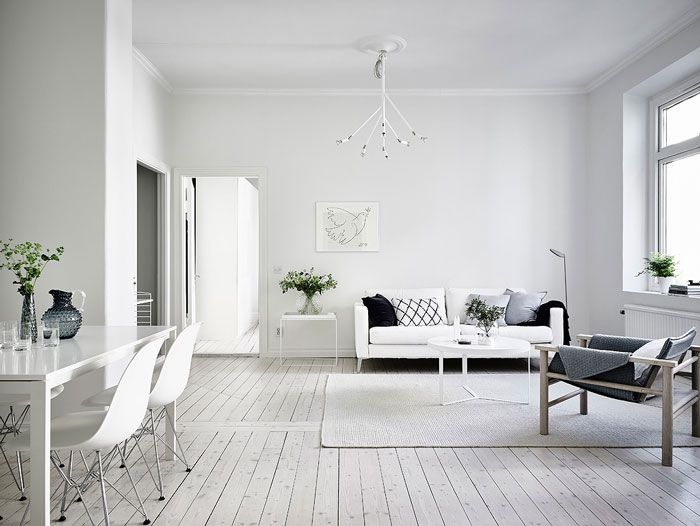 There Are Shades of White
White is a colour, just like any other, and it has shades. If you don't want to daze people when they walk in the room, try to use a few different shades of white. Consider mixing splashed white with seashell, snow, cream, ivory, and other shades to give the room a sense of depth.
Save the brightest colours for key parts of the room – you could have splashed white oak doors and skirting boards, and use slightly less brilliant whites for parts of the room that are likely to get touched, sat on, or used a lot.
Textures and Lighting
Another valuable tool in interior decorating is texture and lighting. Even if you mix a lot of different shades, a white room can still look boring and clinical if everything is flat and reflective. Textures can be used to add variety, and make the room more interesting. Even the contrast between glossy white bathroom tiles and a white shower curtain can help to break the monotony of one colour.
You could, for example, have painted but unfinished oak doors and an exposed oak ceiling. The visibility of the grain will add charm to the room. Use white wool throws, silk table cloths, and leather cushions to add even more richness to the room.
A Splash of Colour
While it's possible to pull off an all-white room, the occasional splash of colour can be beneficial. Even if it's just one item, the stark contrast to the rest of the room can have a huge impact, and really benefit your design. Red, black, or yellow are all colours that can go well with white. Consider adding a brightly coloured table lamp, or a printed rug, to break up the rest of the room's design. Another option is having the floor a much darker colour than the rest of the room.
Keeping White Clean
White rooms gather dust quickly. If you're considering using white as your primary colour in your living room, it's a good idea to minimise the amount of ornaments you keep in the room. Sparse, simple rooms are far easier to clean. You may also want to forego carpets in favour of tiles, lino, or wooden floors, which are much easier to take care of.
Choose your soft furnishings based on how easy they are to clean, or make liberal use of throws so that when there is an inevitable coffee accident you can simply pick up the throw and put it in the washing machine, instead of having to remove an entire sofa covering.
This style of decorating probably isn't the best choice for someone with children or pets, but if you can pull it off, and keep it clean, then the results can be amazing.